How is Web 3.0 Changing The Prospects of Modern Businesses?
Imagine internet technology that understands what you say, accurately translates what you type, and searches through text and voice.
Today, we are entering into the third phase of www evolution – Web 3.0 where users can access the true power of web technology, and all the content is more personalized than ever before.
The modern world is getting prepared to witness the change in business operations and how users will interact with the digital world.
The fundamental ideas of decentralization, openness, and increased consumer expectation have led to the evolution of Web 3.
In this article, we are going dive deep into Web 3 technology, the benefits it poses, and how it will enhance business processes to gain a competitive advantage.
What is Web 3.0?
Web 3 is the third generation of the evolution of web technologies. It has a strong emphasis on decentralized applications and makes extensive use of blockchain-based technologies, machine learning, and artificial intelligence (AI) to empower more intelligent and adaptive user-centric applications.
Web 3.0 technology with the help of AI and IoT brings together all the concentrated data and information to make it hack-proof.
Web 3.0 will drive the process of how data is collected and managed across the web using the latest technologies.
Web app development services in California provide a network of more transparent data processes that will enhance business operations with more security and privacy of data.
Read More: How Blockchain Technology is Transforming Modern Business Operations?
Evolution of Web From 1.0 To 3.0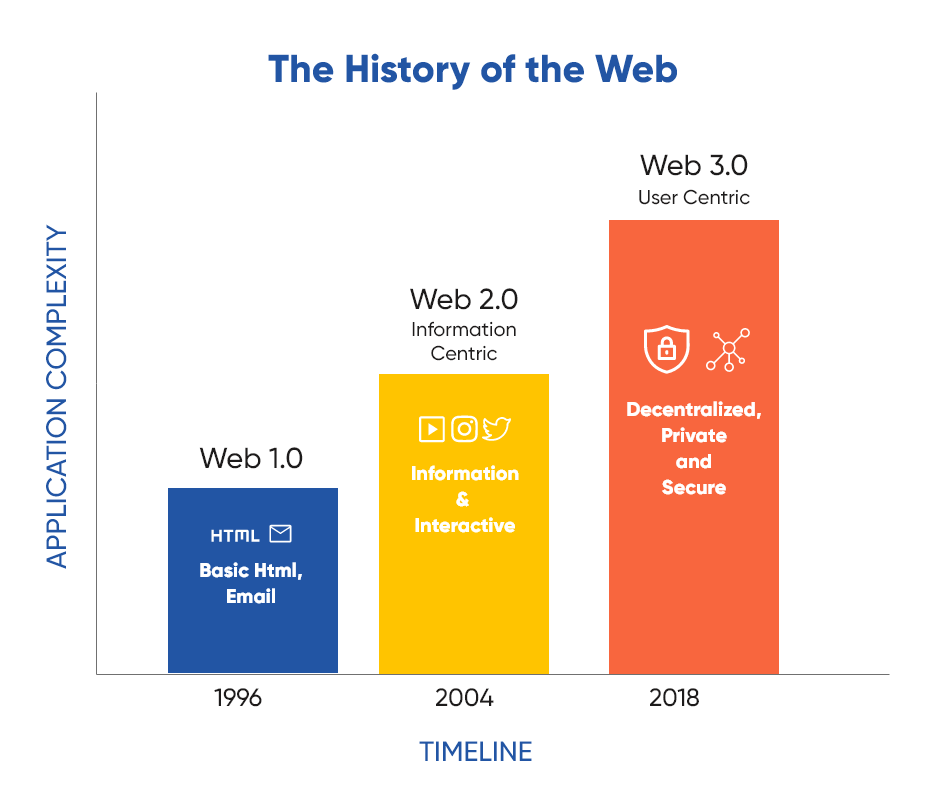 Web 1.0: – Static Web
Web 1.0 began as a static form which made the pages more visually appealing and marks the first stage in the evolution of the World Wide Web.
It was a content delivery network (CDN) that enables information to be displayed on websites. The static web was made for read-only webpages and lacks interactive features.
Thus, it allows users to "read-only" and to search for specific or limited information that was created only by some of the content creators.
Web 2.0: – Dynamic Web
In 2004, O'Reilly Media and Medialive hosted the first Web 2.0 conference to highlight user-generated content, ease of use, and interoperability for end users built on the web.
Web 2.0 is also known as the "Social Web" that enables interaction and collaboration among users through social media in a virtual community.
Web 2.0 changed everything that allows users to interact freely with each other, and encourages participation, collaboration, and real-time sharing of information with one another.
It also allowed businesses to attract their audience on social platforms and market their products and services.
Web 3.0: – Semantic Web
Web 3.0 promises to make the world more informative, meaningful, and secure than ever. This includes transforming a network into a database and a step aimed at decentralized access to content through multiple non-browser applications.
With the introduction of advanced technologies like – Blockchain, Artificial Intelligence, 3D networking technologies, etc.
It is the next break in the evolution of user-centric access to understand data in a human-like manner.
Why is Web 3.0 Important for Your Business?
Business is moving towards a futuristic world where there will be no boundaries of trading, and transactions and people can work from anywhere.
Web 3.0 is the era of blockchain technology and decentralized applications where the distance between digital content and physical objects is minimal.
It allows users to feel and experience the virtual world. Web 3.0 is the next phase of the Internet, where businesses and its operation will be more transparent and user centric.
Businesses have a unique opportunity to capitalize on the latest technological advancements and grow their network by enhancing various business processes.
It acts as a platform for businesses to stay ahead of the curve and compete with global players. Business web mobile application development company helps you in integrating web 3.0 technology into your business functions.
Many industries such as Manufacturing, Finance, Banking, Healthcare, Logistics, Travel, etc. are benefitting from the web3 by utilizing blockchain technology from the top web app software development services in the USA.
Businesses have reduced inefficiencies, quicker transactions, smart contracts, and more with blockchain technology.
Benefits of Web 3.0 in Business Operations
As Web 3.0 continues to develop, businesses are keen on adopting it to enhance their business operations. It offers numerous benefits to businesses. Let's see how it benefits them in targeting user bases.
Improves Customer Relationship Management
Customer Relationship Management (CRM) has always been a central focus for the proper functioning of businesses.
Web 3.0 has made it possible for businesses to generate their target audience and potential customers. It analyzes and tracks customers' data through social media, browsing history, and other data sources to gain a much deeper understanding of their customers.
However, a business web mobile application development company helps you in creating an app that will improve CRM and enhance business processes.
Easy Access to Information
Web3 technology has enabled businesses to reach their potential customers by providing easy access to the information.
Users can easily access data from anywhere, mainly due to the widespread use of smartphones and cloud applications.
It aims to collect user data by providing easy access to data over smartphones and computers.
Supply Chain Management
There is a rapid shift from traditional supply chains to more decentralized supply chain networks to meet the customers' demands and expectations.
In a decentralized supply chain network, suppliers, manufacturers, distributors, retailers, and other members are connected through a single network.
Web app development services in California help you to optimize the flow of materials, information, and finances across the organization.
Safe and Secure Data Exchange
Web 3.0 has increased the ability to share and exchange data and information for the proper functioning and operation of business.
The decentralized structure keeps the data safe and secure while functioning in various business operations. Web app software development services in the USA keep your data safe and secure through various encryption technologies.
They maintain your data and keep it safe from unwanted threats.
Read More: Is NFT Market Over? Why NFT Creators Are Losing Their Income?
Why Should Businesses Invest in Web 3.0?
Web 3.0 is majorly driven by Blockchain technology; thus, it allows businesses to access users' data to operate according to the demand and expectation of the customers.
It allows customers to interact and track the delivery of products and services in a transparent manner. Web 3.0 is intended to produce sustainable results due to its decentralized nature.
Distributed ledger technology and smart contracts has lower the costs of business operations by doing the work of middlemen and manual mediation.
Startups and SMBs will gain maximum benefits with the adaptation of web 3.0 technology because traditional businesses will have to undergo a major overhaul to survive the changes.
That's why many startups and new businesses are rapidly increasing the adoption of new technologies.
Final Thoughts
Web 3.0 is a game-changing technology for businesses as it allows them to manage their data, improve their products and services through reporting and analytics.
It makes it easier for businesses to attract customers, deliver products, and raise funds. Clavax is a business web mobile application development company that helps businesses to streamline their operations by integrating new technology to stay ahead of the competition.
Enhance your business operations by facilitating communication and collaboration between employees, partners, and customers to build a more efficient business.