The importance of web applications cannot be denied even when we are staying in a mobile dominant world. Web applications have a significant impact on the user's mind and act as an integral part of a business's presence online. It turns out to be an online brochure or marketing forefront of any company.
Hundreds of web applications are launched every month. Surprisingly, the enigma no longer exists whether you need a web application for your business or not. But the question is that the cost to build a web application fits your company's budget and meets business requirements.
Many businesses hire web & app development companies to create intuitive web apps that help them to reach their goals faster. The cost of developing web apps depends on various factors that we'll discuss in this blog.
Which Factors are affecting the Development Cost to Create a Web App?
How Much Does It Cost To Build a Web Application? It is the most common question that comes to your mind before building a web app for your business. Many factors impact the development cost of the app. Hiring a cheap development team can hamper not just the quality of the app but also lead to poor customer experiences.
To help in planning your budget better with a brief idea of estimated cost, we have listed some of the hand-picked factors that hugely affect the web application development cost.
1. Functionality
Another factor that may raise the cost of the web app is the number of functionalities and the complexity of each feature. Some features can be developed quickly without effort, while others may take time to build.
One of the simplest websites is the one that is developed without any support of integrations or payments and is usually managed by a single person for any content update/change. A basic informational website takes lesser time to build & needs a lower budget.
2. Complexity of App
One aspect that can impact the web development estimation is the complexity of the web app. The more complex your app is, the more expensive it will take to develop it. We should be aware that the total cost is calculated as per the number of working hours spent and the hourly rates of each web developer involved in the process. Web apps with more complex features will take more working hours to build. Additionally, the number of custom features you want in your app also defines its complexity.
Evaluating Costs by Project Complexity
Basic Web Apps
The simplest version of a web application with basic functionality is called basic web apps. It generally includes simple landing webpages or informational websites.
Development Time – Around 3 to 4 weeks
Approximate Development Cost $5000 to $17,000
Built with predefined template layouts
Small online catalogs
Calculator pages
Widgets or additional features to the existing web apps
Custom Web Apps
Professionally designed with interactive UI/UX are custom web apps. It is one of the most suitable options for mid-scale business or e-commerce sites with moderate complexity.
Development Time – Around 12 weeks
Approximate Development Cost $17,000 – $55,000
E-commerce stores
Marketplace-based web apps
Modules or additional parts for existing web apps
Complex Web Apps
Complex web apps have a high complexity level with exclusive CMS features. It includes various features like payment gateways, social media integration, checkout carts, and much more.
Development Time – Around 24 weeks
Approximate Development Cost  $55,000 – $2,50,000
Automated billing systems
Payment processing apps
Enterprise-grade Web Apps
Development Time – Around 24 weeks
Approximate Development Cost  around $2,50,000 or More
The companies that need large software system platform designed to operate effortlessly in a corporate environment use enterprise-level web apps. It includes various functionalities like automated billing systems, ERP, e-mail marketing systems, CMS, business intelligence, and much more. It can cost around $2,50,000 and more, depending on the list of features that needs to be integrated into the platform.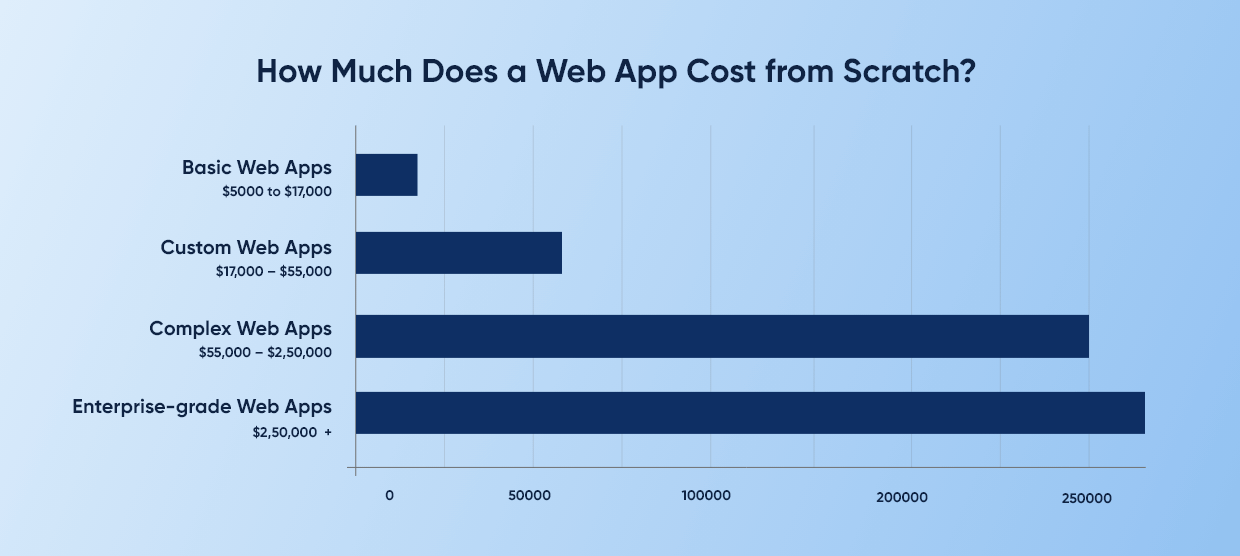 3. Custom Designs
A web app with standard design is what we suggest if you are a startup or a budget-company, as it comes with several pre-built themes & templates. The more custom designs you want in your app, the more additional charges you need to spend on the development cost. Go for an advanced web app with a fully customized user interface design when you have good money to spend. A number of screens are also a factor that can impact the website development cost.
4. Location of Developers
Development costs may indeed differ location wise. One of the most significant factors that can impact the development cost is the physical location of the development company. It is because the wages of web app developers may vary from one country to another. Developers in software companies based in advanced countries with a higher cost of living usually have higher earnings.
5. Strict Deadlines
Maintaining the quality of the project and handling strict deadlines can be difficult. Also, it will cost you more since you need a higher number of resources working dedicatedly for the fast development process. It is always advisable to plan the project because a tight schedule task involves higher risks that may increase the developmental cost.
6. Hourly Rates
In today's global IT market, there is an enormous number of web application designers that work as per diverse business models, and the value ranges are related to each type. The hourly developmental rates will be distributed to different types of professionals involved in the whole development cycle i.e. manager, developer, and QA team.
Talking about high-profile clients with budgets starting at six figures will prefer to work with enterprise-level developers while startups would go for mid-level developers.
7. Maintenance Charges
We know that the cost involved in making a successful web app doesn't end with its development cost, as post-release expenses will be there to fix the bugs and maintain the infrastructure. Even if you are working with the top developers in the town, bugs can pop up after the launch of the website.
We advise you to have a clear discussion with the development team to make sure that the cost involves the maintenance and bug fixing charges. Save a part of your budget and be ready to fix the issues that may arise after the development phase and keep the app updated to engage customers with evolving trends.
Main Web App Categorizations
Web apps are divided into six broad categories. The classification is based on the content required to showcase on a website.
| | | | | |
| --- | --- | --- | --- | --- |
| Static Web Application | Dynamic Web Application | E-commerce Web Application Development | Web Portal Development | CMS Web Application Development Services |
| $500 – $10,000 | $2500 – $5000 | $10,000 – $50,000 | $3,000 – $6,000 | $5,000 – $50,000 |
1. Static Web Application
A static website is easily and quickly developed in HTML and CSS languages. They are cost-effective but are preferable to showcase portfolios or static information. As, even if you want to update certain information on the website, you need a developer to perform the needful task. The main advantages of developing a static website are inexpensive hosting, easy indexing, and quickly transferred from server to client without much processing time.
2. Dynamic Web Application
Dynamic websites are more powerful than static websites. From the ease of maintenance to greater usability, dynamic web apps give you an opportunity to display different content to different users according to the location. It is developed with a combination of HTML and coding.
Unlike static websites, it holds an entire database of content thus you can effortlessly alter, edit, or update content, without the need of a web developer. By enabling its features like recently viewed items, personalized product suggestions, and location-based offers, you can deliver amazing customer experience. It increases customer engagement and improves retention.
3. E-commerce Web Application Development
Every E-commerce web app is different from another. Incorporation of different features like content management system, payment gateways, search engine optimized layout, reporting tools, email integration, push notifications, chatbots, and much more can affect the total development cost. With the right features on your e-store website, you can reach a global audience with ease.
4. Web Portal Development
There are several web portals including B2C, B2B, learning, community, vendor, and much more. Each portal can be differentiated from other from its features. For information management, you can use features like multisite support, document management, and advanced search.
To make a platform socially-active, you can integrate media galleries, polls & rating functionality, and activity streams. If you want to enhance collaboration then you can include workflows, forums, and blogs.
5. Animation Web Development
With the continuously changing technology environment, you need to give something "extra" to keep your customers engaged. The best solution for animation can be accomplished by using HTML5, CSS3, and JavaScript. While animation web development, you need to consider cross-platform support.
Devices come with different aspect ratios, orientations, and pixel densities, thus you need to test on all platforms and devices to better performance and improved response times. The development can cost around $10,000 per minute for a simple video with no characters.
6. CMS Web Application Development Services
For quick management of website content, you can use the right CMS for your business. It gives complete control over your website including design and content. You can edit, delete, add, or update webpages when and where required, without hiring a web developer.
However, the cost depends on which CMS you use for your business. With emerging trends, there are different CMS options that you can use and upgrade your company's website, effortlessly.
    6.1 Kentico
Kentico is a licensed CMS that enables you to manage online stores and provides a unified view of your marketing activities and consumer data. It is an all-in-one solution with out-of-the-box functionality thus a preferable option for the enterprise-grade website. The standard cost with a custom design for a corporate website starts from $50,000.
    6.2 WordPress
WordPress is an open source yet powerful CMS that offers extensive features to build intuitive business websites. It is a reliable web development solution for professional websites and e-commerce stores. The platform offers smart customization, responsive design, easy-to-install functionality, multiple theme options, flexibility, and much more. A custom WordPress theme will cost around $3000 and a custom WordPress website will cost around $15,000.
    6.3 Drupal
One of the most comprehensive CMS systems available in the market is Drupal. You can use the platform to manage content as per your changing business strategies with ease. If done right, you can make your websites highly responsive, secure, and easy to integrate & market.
A standard Drupal project can cost you around $30,000 to $40,000. However, the cost may rise in case of complicated workflows and many content types.
    6.4 Magento
An open source platform, Magento is mainly used for e-commerce development. It is a feature-rich CMS that empowers store owners to makes the efficient use of in-built features to manage the overall store functionality.
Some of the in-built features include search engine optimization, catalog management, payment integration tools, and much more. The cost of a Magento website starts from $20,000 to $40,000.
Key Takeaway: The choice of web application development company has a crucial impact on the development costs. Whether you choose freelancers in expensive location or a megastar company in a cheap location may cost you an arm and a leg. Choose a renowned web development company with a proven-track record to enjoy immense benefits in the future.
Outsourcing Versus In-house Web Development
Concluding between employing in-house developers or outsourcing is always a tedious task. On both sides of the fence, you have got some risks and advantages that can impact the actual cost of a web development project.
Undoubtedly, signing a contract with an outsourced firm can make your blood run cold however, working with a reliable company is worth your investment and is a lot less expensive than owning an IT department. Depending on the size of the development company and resources needed to complete the project, the cost lies between $25 to $250 per hour.
Besides the above-mentioned factors, here are a few other considerations on which organizations decide the cost of web development.
Team Required to build a Web App
From the type of application you need, the development companies can identify the number of specialists required in a team to build the project seamlessly. Typically, an hourly rate is distributed among different specialists who will build your application.
Thus, the cost of web development depends on the resource salary, it includes project managers, developers, and quality assurance engineers. However, it is a misconception that more resources will develop the app faster. This isn't true always.
 Post-Release Expenses
The post-release expenses mostly include bug fixing and maintenance of the web app. Undoubtedly, post-release bugs can occur even if certified developers build your app. It is wise to preserve a specific budget for the unforeseen bugs that can show up after the launch.
Usually, bug-fixing requires 10% to 25% of the app development budget.  The average cost of maintaining an app is nearly 20% of web development costs per year. Additional features that may drive up the cost of app maintenance such as:
Powerful Servers – $20 To $60/Month
Push Notifications – $10/ Month
Third-Party APIs Charges
App Stores Developer Fee – $25 at Google Play and $99 at Apple App
The bottom line on web development cost is that every project is unique. Nonetheless, we think above-mentioned factors play a significant role in determining the cost of your next web app project. To make a little easier for you, we have developed a web app cost estimation tool that gives an approximate estimate on choosing the desired features of your web app.
Let's take a walk through on how to access our web app cost estimation tool.
Step 1: Get Started Click on 'Get an Estimate' button placed on the top-left side of the website www.clavax.com.
Step 2: Click on 'How Much to Make a Web App' and get started with our proprietary estimation tool to know the appropriate cost of your web app project.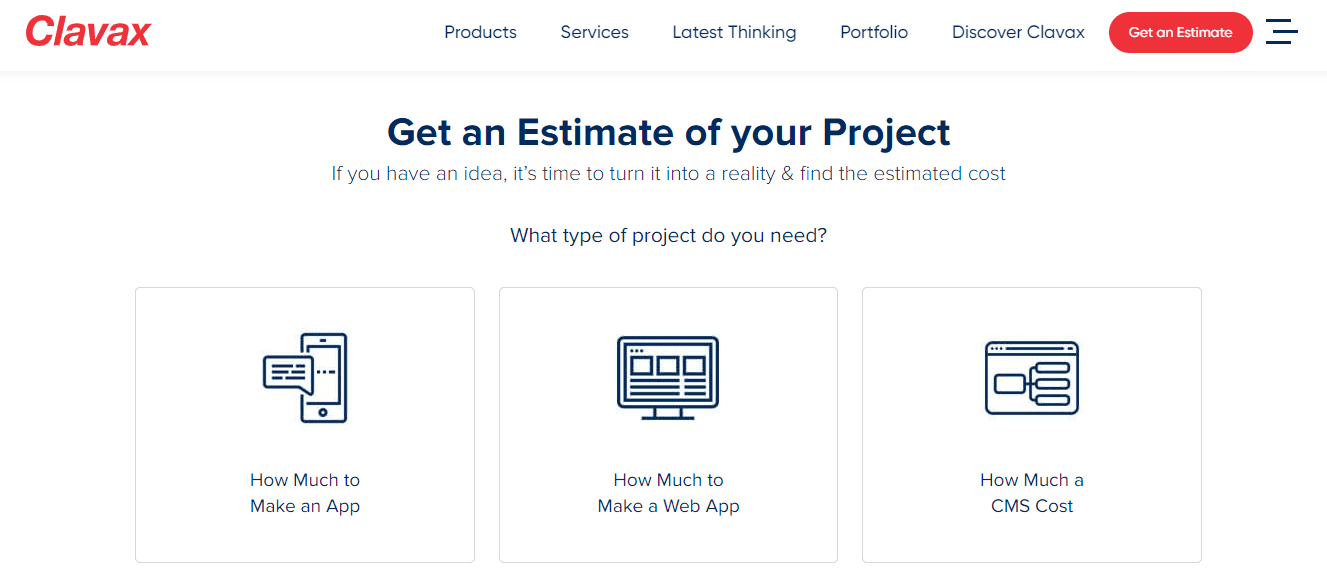 Step 3: Choose the features that you need to include in your web app to bridge the gap between your brand and consumers.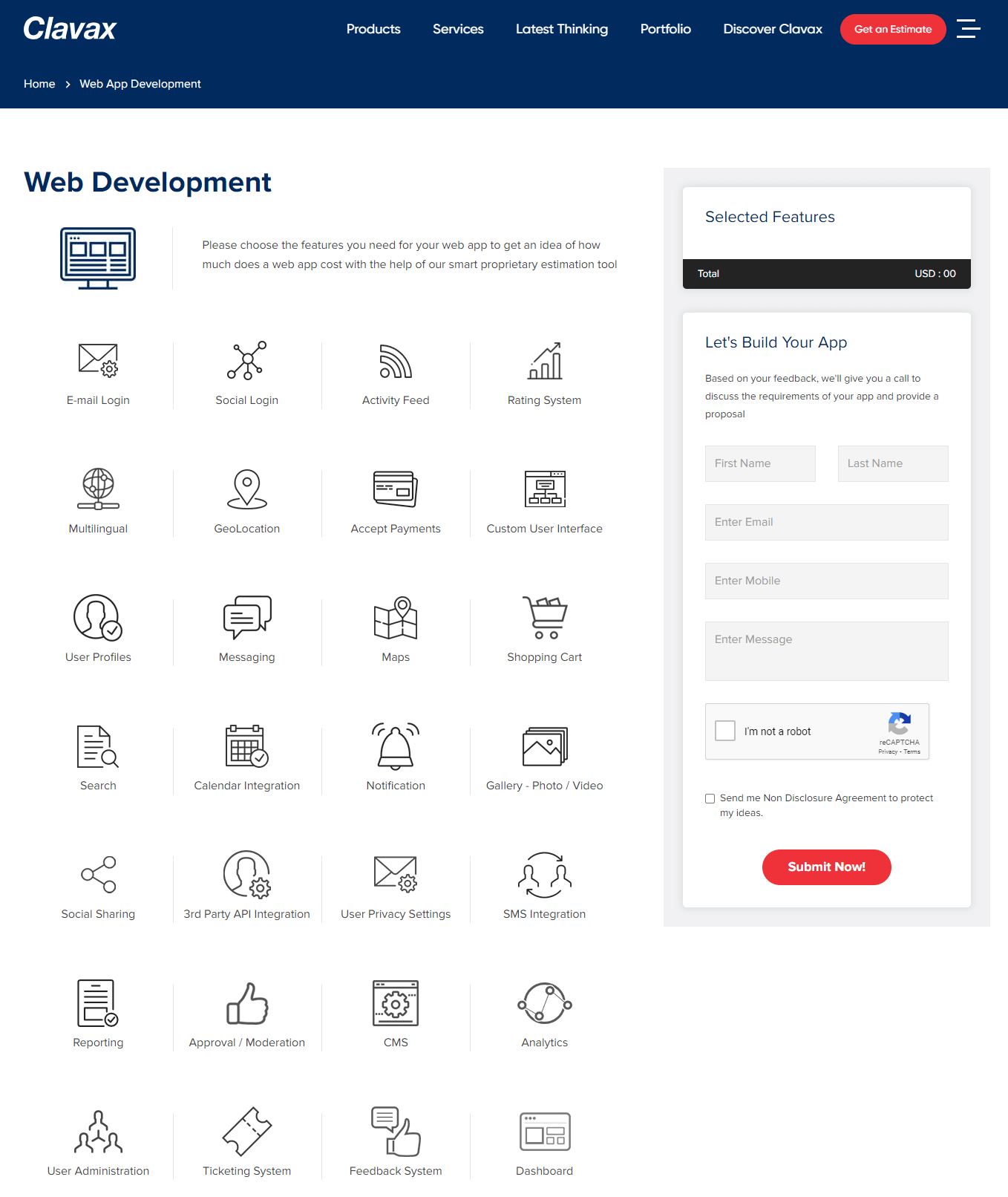 Step 4: Get the estimated value with a few clicks, based on your selection of features. For more details, you can fill the details and reach out to our experts in no time.