How Much AR-VR App Development Cost | Estimating an Augmented Reality App Development Cost
Augmented and virtual technology emerged as a groundbreaking technology that will surpass $15 to $65 billion in revenue by 2023. But if you think that AR/VR is only for gaming, you are probably mistaken. From startups to big multinational companies, many businesses are embracing the power of immersive technologies to streamline efficiency, improve customer satisfaction, and boost productivity. However, businesses have just scratched the surface; several opportunities yet need to be discovered.
For companies that are interesting in developing augmented/ virtual reality app might come across various questions about its practical implementation. Choosing the right AR app development partner not only guides you throughout the process but answers all your queries along the way. One of the most important questions is that the cost of developing an AR/VR mobile application.
As said, the AR/VR app development is becoming common among a large number of industry verticals. The cost may vary depending upon the industry domain types. For instance, here is a pie chart representing the cost of developing an AR application for a particular industry.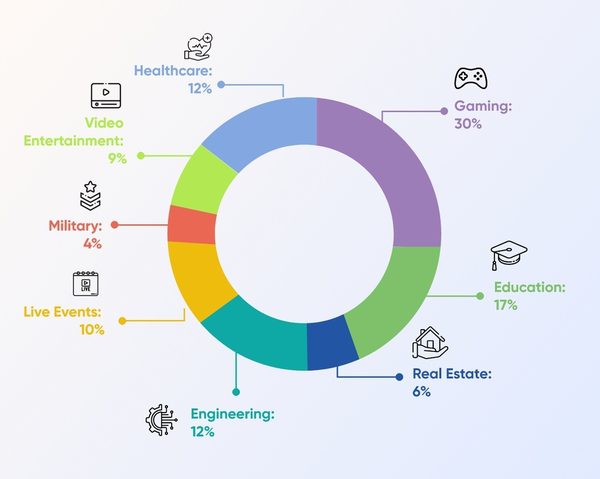 If you think you have a cool AR app development app idea, or you want to clone your app, it is recommended to take the ballpark of the cost of app development. It helps you in knowing whether the development costs suits your budget and timeline or not.
Although, there is no sure-shot formula for predicting how much does it cost to build an augmented reality app, merely estimates. The VR/AR development cost may vary from $10,000 to $300,000, depending on how much time is required to finish the app. So, now the question arises, how to calculate time to build a successful AR-VR mobile app.
Top Factors Determining AR-VR App Development Time
1. Project Type
AR Development Cost based on Project Type
Apps with fewer features and lesser efforts are built easily like MVP. However, other apps that have custom functionalities may take longer to develop thus are expensive. Let's see how complexity affects AR app development time.
These apps help you present your idea to a target audience in an engaging manner. These are generally small in size, intuitive, and user-friendly apps that let users visualize the vision like never before. Such AR apps have around 1 to 5 AR models onboard with basic moves like rotate, pile 3D models, take a snapshot, etc.
| | |
| --- | --- |
| Designing & Wireframing | 15+ hours |
| Programming | 40+ hours |
| Employing 3D models | 1 hour 30 minutes/depending on source format and number of model |
| Final Publishing in-store | iOS-8 hours, Android- 4 hours |
Create your own augmented reality experiences. You can add diverse features in the app based on the business requirements like, choose an item, visualize items, take a photo, and more. Adding more features can affect the augmented reality app cost. Development time is distributed in the following way.
| | |
| --- | --- |
| Sign In/Sign up | 14 hours |
| Catalog | 24-50 hours |
| Sharing | iOS-4 hours, Android- 4 hours |
| Cart | 8 hours |
| 3rd party API | 15+ per API |
| Back-end development | Depends on features |
AR has penetrated almost all industries, including education to retail, architecture, and healthcare. One of the enterprise AR trends is that it becomes more pervasive in all businesses and will profit everyone. These apps are used for staff training, quick referencing, and cooperative work. Moreover, such apps can help you seamlessly track inventory and offer maximum support in business workflows.
| | |
| --- | --- |
| Sign In/Sign up | 8 hours |
| Catalog | 24 hours |
| AI-based recommendation | 100+ |
| Sharing | 9 hours |
| Recognition system | 50+ hours |
| Integration of 3D models | 5 hours each |
| Publishing | 24 hours |
VR Development Cost based on Project Type
AR/VR is the fastest-growing domain of the tech industry. All significant organizations like agriculture, gaming, and learning are looking forward to integrating AR/VR in their apps. Being an on-demand technology requirement, we hire app developers who are experts at augmented/ virtual reality development and can simplify day-to-day tasks. While calculating the virtual reality app cost, you must consider the number of VR professionals required on your project.
| | |
| --- | --- |
| Simple VR app (Android/ iOS) | Up to 1 month |
| Online VR shops for retail (Android/ iOS) | Up to 3 months |
| 3D MAX Modeling | Up to 6 months |
| Complex MMORPG | Up to 1 year and more |
**The first three options require 2 to 5 VR professionals to complete the task in the dedicated deadlines. However, the last option can take at least 10 VR specialists.
AR VR App Development Cost Calculator
2. App Features
Cost Breakdown Based on Augmented Reality App Features
Marker-Based AR
It is also called image recognition-based AR that anchors the digital image to the real world. By scanning QR codes, icons, or various cards through a smartphone's camera, you can place a distinctive picture or shape on to the surface.
Marker-Based AR with Animation
Like a marker-based AR app, it helps to augment the virtual object onto the physical world by using the camera and decoded marker ID. Also, leveraging the potential of the feature, the app developers can add intuitive audio with an image.
Marker-less AR
Use inbuilt sensors like the accelerometer to try different combinations of objects, styles, and locations. For instance, you can place a cartoon character or furniture right in the living room. IKEA is one of the live examples that use marker-less AR technology in their app.
Projection-Based AR
Projection-based AR is a leading choice in the manufacturing sector as it delivers valuable results as compared to any other form of AR. It uses advanced projection technology to simplify complex manual tasks that are part of the company's manufacturing operations.
Superimposition-Based AR
If you want to replace the entire object or a part of it with an augmented view, then this feature is most commonly used. In Healthcare apps, the developers can use the technology to superimpose an X-ray view of a broken bone on a real image to get a clear understanding of the damage.
Outlining-Based AR
Object recognition works behind outlining AR. It recognizes the boundaries of the road and makes outlines for easy understanding. The outlining-based AR is commonly used in architecture and engineering to showcase buildings or supporting pillars through AR.
Recognition-Based AR
It is one of the widely used AR that focuses on recognition and provides detailed information about objects. Whenever you scan an image or QR code with recognition-based AR, it comes to life and delivers an incredible user experience.
SLAM AR
SLAM is a simultaneous localization and mapping technology that describes the physical world through feature points. It makes it possible to recognize 3D objects, instant tracking, scene recognition, and overlay digital interactive augmentations.
| | | |
| --- | --- | --- |
| Type | Development Time | Approx. Development Cost |
| Marker-Based AR | 80–200 hours | $2000-$3000 |
| Marker-Based AR with Animation | 110–250 hours | $2600-$3500 |
| Marker-less AR | 400–510 hours | $10,000-$11,500 |
| Projection-Based AR | 240–360 hours | $6000-$8000 |
| Superimposition-Based AR | 280–400 hours | $7000-$8500 |
| Outlining-Based AR | 168–250 hours | $4200-$5000 |
| Recognition-Based AR | 104–150 hours | $2600-$3500 |
| SLAM AR | 400–450 hours | $10000-$12000 |
Cost Breakdown Based on Virtual Reality App Features
Window on World VR
Generally, healthcare apps use the feature to visualize complex medical procedures such as surgeries or colonoscopies. Nowadays, the VR feature is also used for the simulation of training scenarios.
Fully Immersive VR
It takes you from the physical world and place into a virtual world where sharp visuals and crisp audio is delivered via HMD. It encompasses every single sense that allows you to interact intuitively with the brain and nervous system. The possibilities for the virtual experience are endless.
Telepresence VR
You can remotely control the sensors from a distance via Telepresence VR. It is mostly used in bomb disposal robots, drones, and undersea exploration. Another benefit of using Telepresence VR in businesses is for creating a more engaging workplace experience. It makes collaboration in a virtual environment much easier and more seamless. It gives your business teams to work remotely with ease and adds persuasiveness to every sales presentation.
Web-Based Virtual Reality
To experience WebVR, you need a compatible browser and a headset. With this, you can experience virtual reality in your browser that makes it easier to get into VR experiences. it has emerged as a platform-independent framework that helps you build immersive and interactive VR mobile applications.
| | | |
| --- | --- | --- |
| Type | Development Time | Approx. Development Cost |
| Window on World VR | 104–150 hours | $2600-$3000 |
| Fully Immersive VR | 280–340 hours | $7000-$7500 |
| Telepresence VR | 240–300 hours | $6000-$6400 |
| Web-Based Virtual Reality | 280–350 hours | $7000-$6900 |
Let's take a glimpse of all the factors that determine the answer to the question, how much does AR App development cost?
Other Factors that impact the cost of the AR/VR App Development
1. Business Analysis
The first stage of the AR app development is where analysts find out the business requirements to get a suitable solution. By analyzing data from multiple resources, the business team will finalize the required functionalities for developing the AR apps that are competitive. In the discovery phase, analysts usually spend around 60-80 hours.
2. AR Application Design
After performing the business analysis, the designers will start working on the creation of UX and UI based on the requirements of end-users. To make the interface of the AR app easy and user-friendly, designers need to create animated images / 3D graphic models. The design phase is becoming one of the most time-consuming times of the development process and may take around 1/4th of the total time.
3. Architecture Planning
The cost of software architecture planning may differ as per the type of app and the features required. Considered as an integral part of development that impacts the AR App Development Cost Estimate, the average time to build architecture for an AR app can take around 25-40 hours. As the app complexity increase, the time to develop the architecture will also increase.
4. Project Management
It is important to ensure that the project manager can correlate the efforts of all the members of the development team. In this phase, priorities are set, and tasks are assigned as per the timeline. Additionally, the team reviews the progress of the development to figure out the area that needs to be improved.
5. Platform & Complexity
One factor that impacts the augmented reality app cost is the complexity of its interface, as these apps have a different interface, unlike others. Apart from that, the development of AR apps can be a difficult task as it involves challenging factors. While taking care of the user interface of the app, it is crucial to test the app concerning various screen sizes and its resolutions for better customer experience.
6. App Features
The integration of app features influences the augmented reality development cost. Development of AR kit with basic features along with objects manipulation (scale, move & rotate) takes around 150-170 hours to implement. The addition of a primary admin panel feature takes 20-30 hours, while the development of the backend takes 40-60 hours. Additional features will increase the AR app development cost, depending on the time required to implement functionalities.
Though determining the exact AR app cost is not possible, make sure that you go through these factors that influence the app cost of the AR project. The AR app development prices may vary depending on the features you need, the platform you choose, or the development team you hire. Make a smart choice for your next AR project and go for the mobile app development company that helps you reach your business goals faster.
Besides the factors mentioned above, virtual or augmented reality app development costs are also affected by the location of the outsourcing mobile app development company. Just a glance,
Summary
The trip of spending money on the development of an AR/ VR app doesn't end here. When you have built the AR solution for your business, you need to start thinking about how to monetize it. Google ads, guest posts, video ads, and much more will play a significant role in the budget. However, it is crucial to understand that endorsing an AR/ VR app is a continuous process. Millions spent on AR mobile apps are worth every penny in the future.
Mobile App Development Cost Estimate
Let's take a tour to know how you can access our AR/VR app cost estimation tool.
Step 1: Get Started Click on 'Get an Estimate' button placed on the top-left side of the website www.clavax.com
Step 2: Click on 'How Much to Make an App' and get started with our proprietary estimation tool to know the cost of your app idea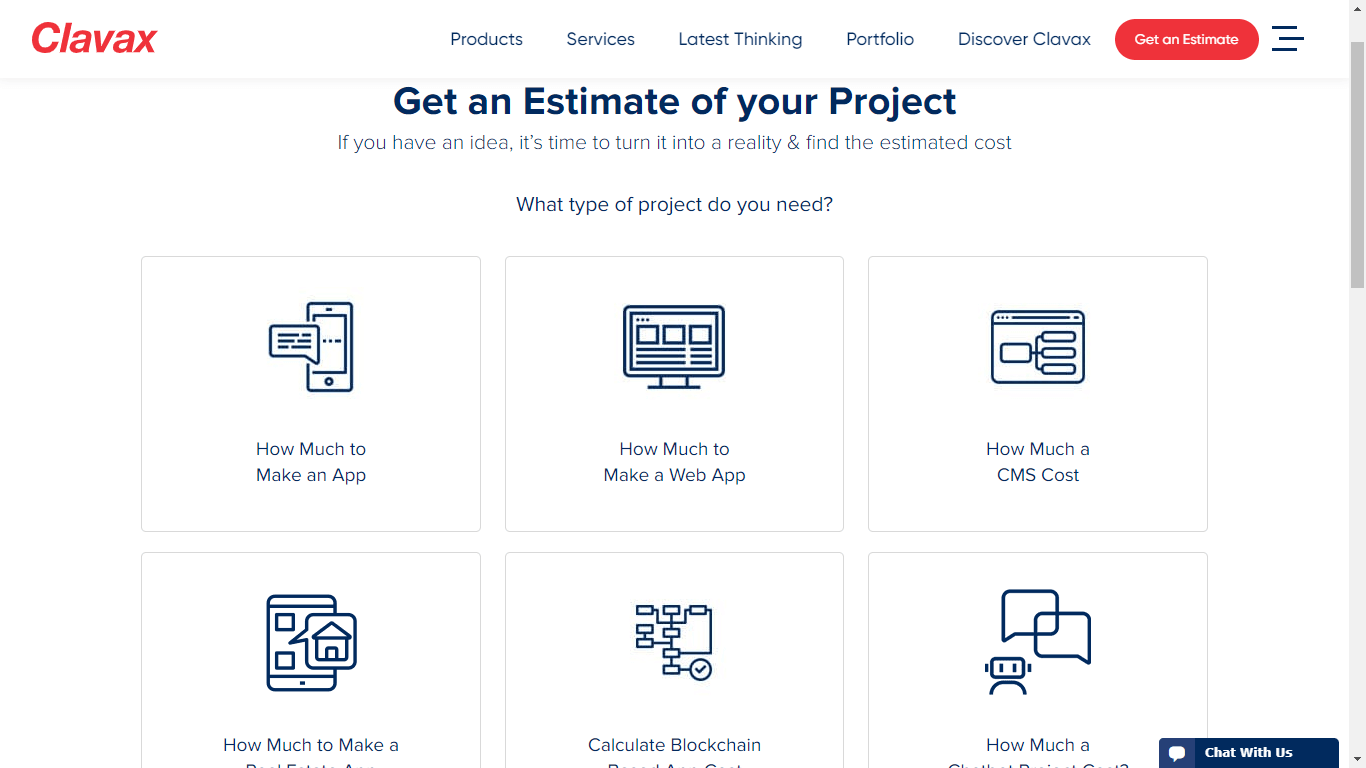 Step 3: Select the App Type
You can choose whether you want to develop a basic app or AR-VR App. On choosing AR-VR app option you can get access to customized augmented and virtual reality solutions for your business.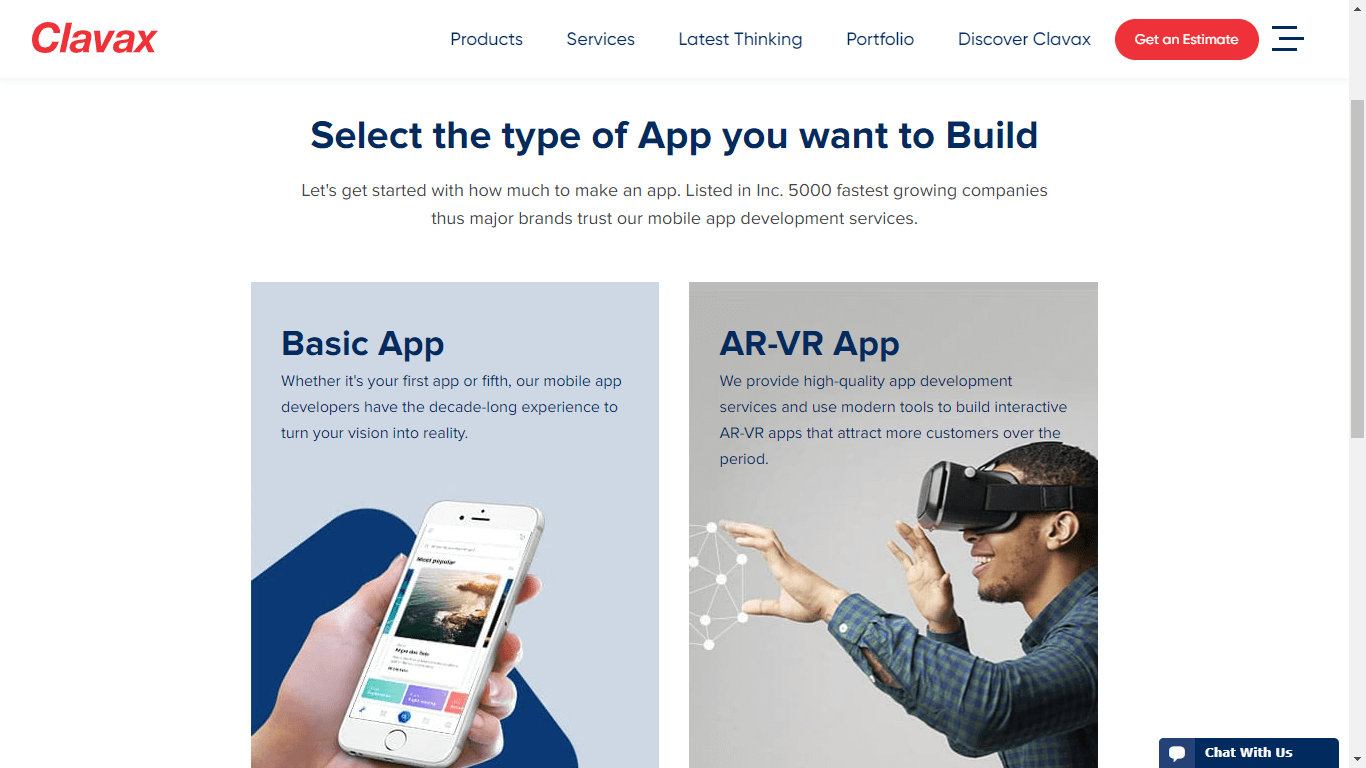 Step 4: Choose the Right Technology
We offer customized augmented & virtual reality app solutions to deliver quality-rich graphics and immersive experiences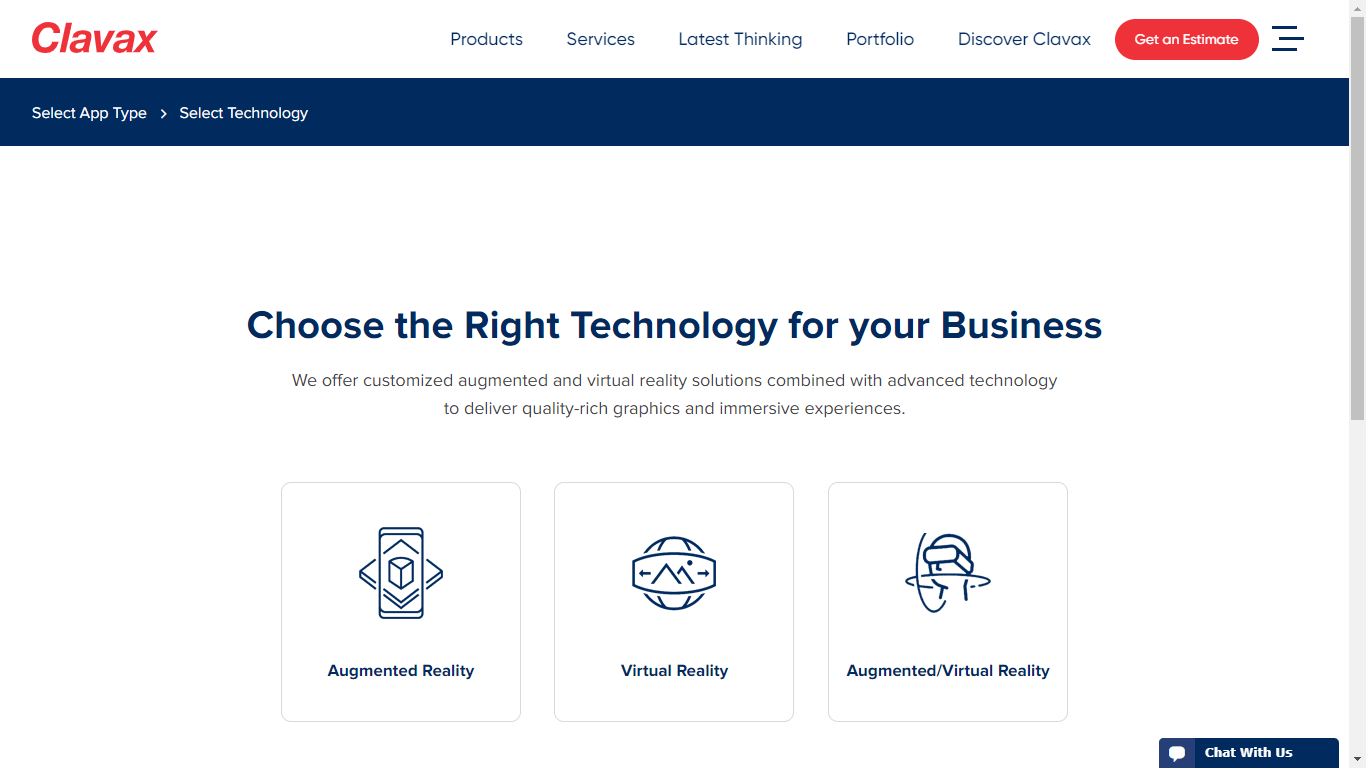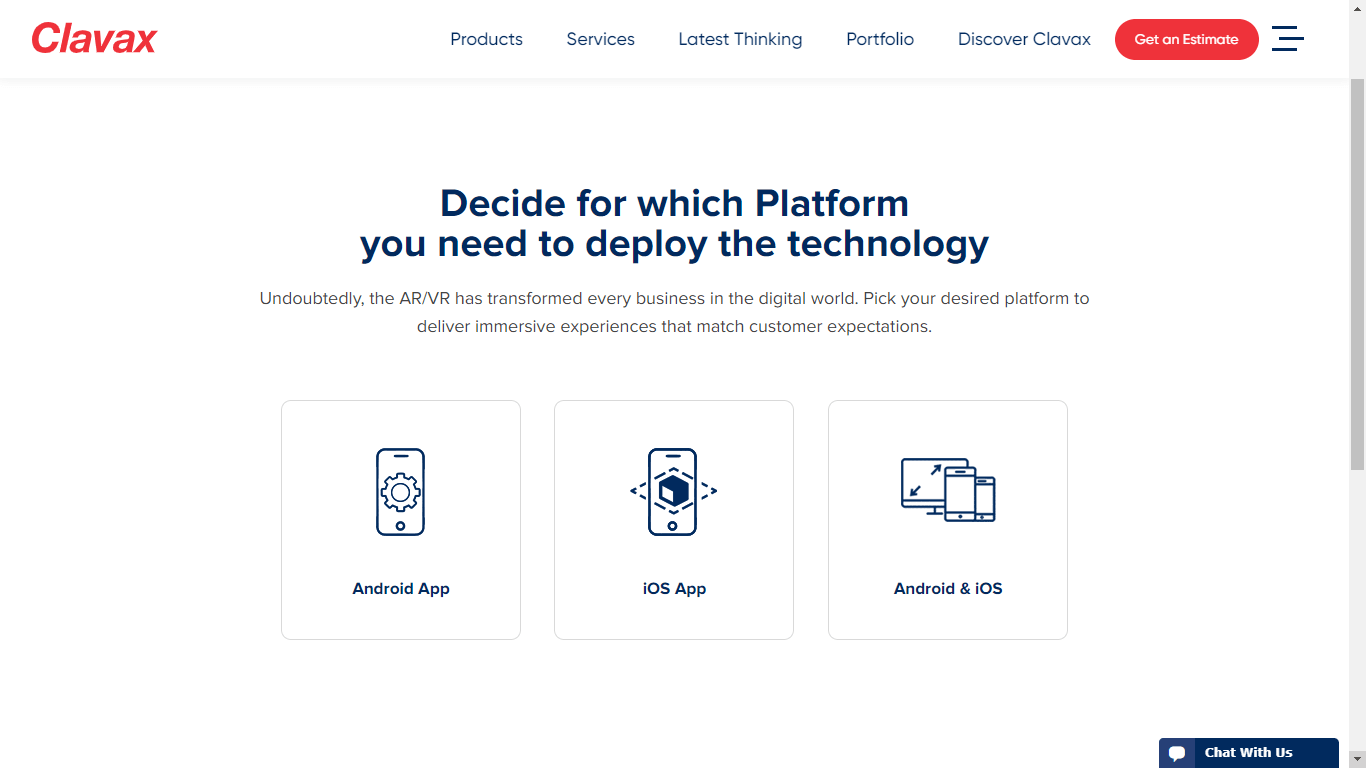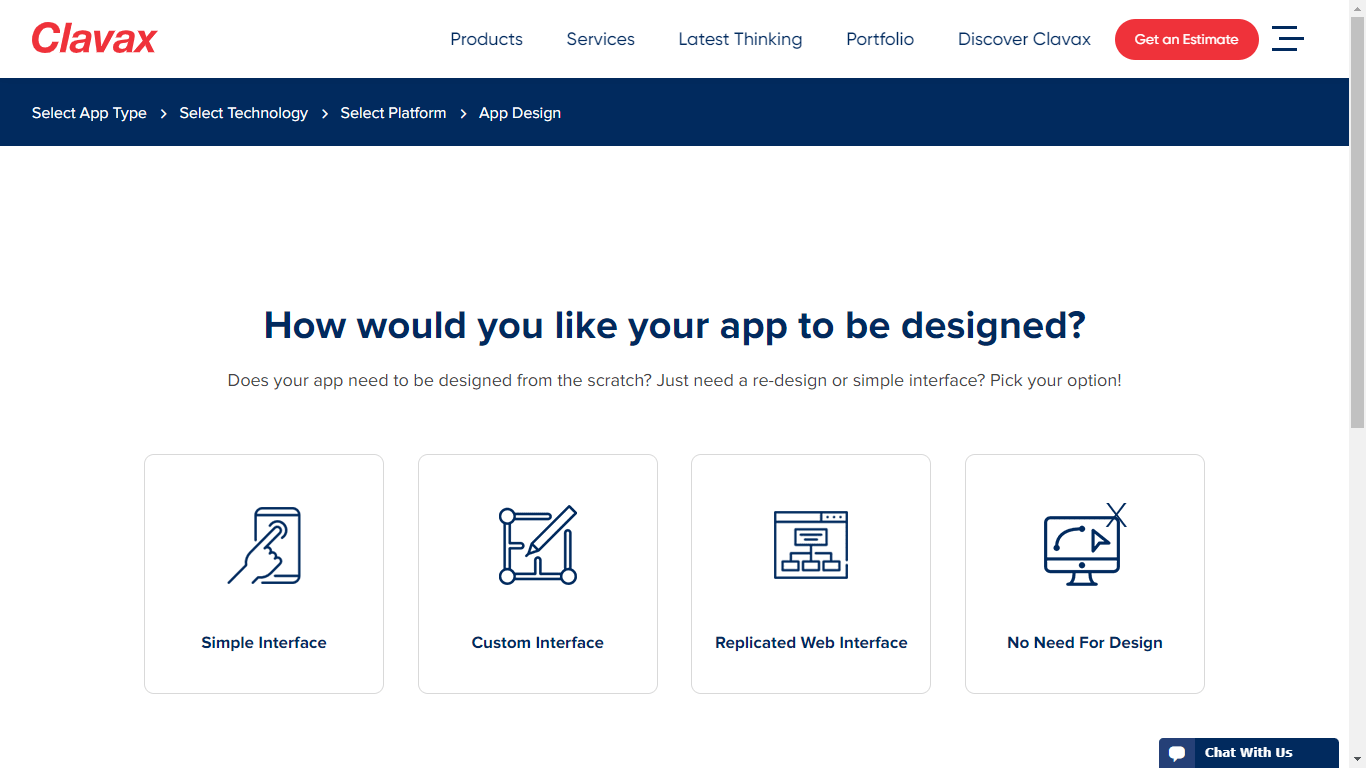 Step 4: Select the Features
After clicking on AR-VR app option, you will proceed to next screen where you can select the desired features and click on 'Continue' button to get an estimated cost of your app.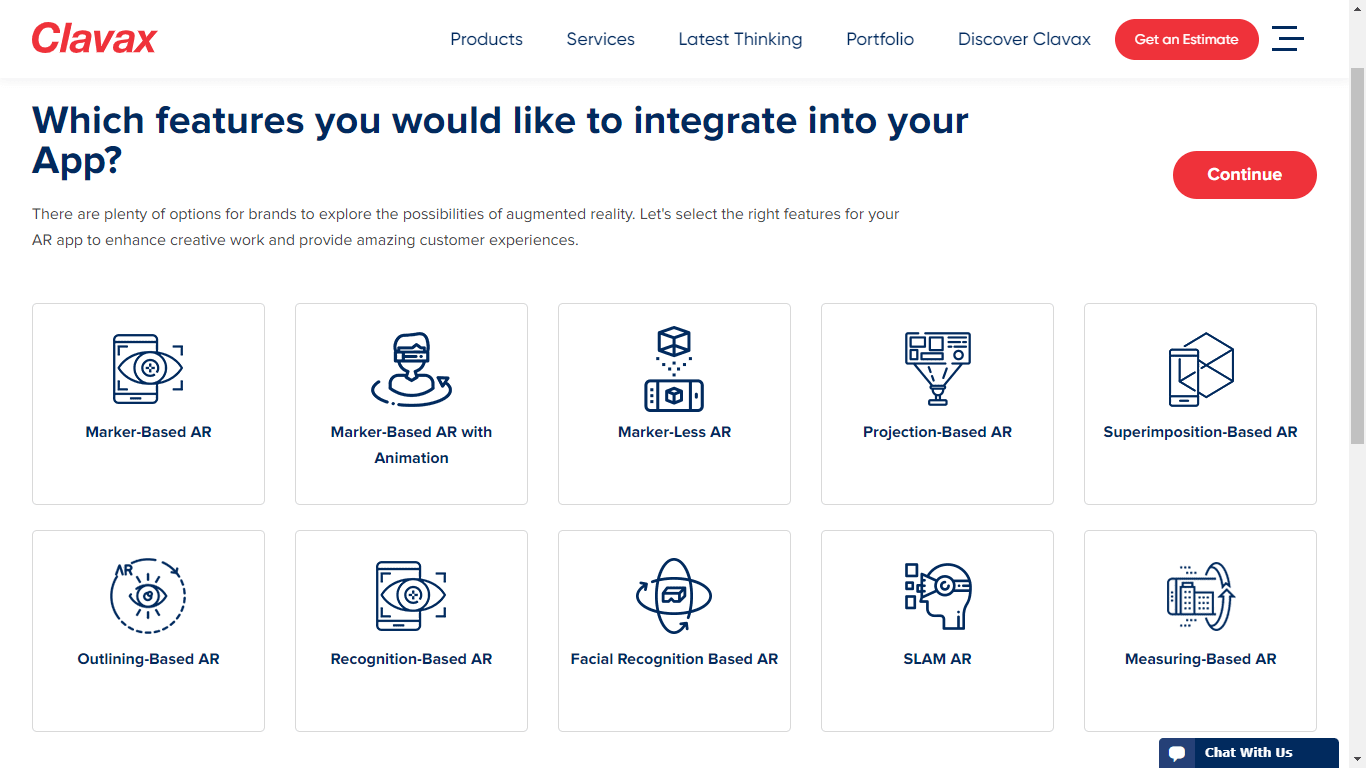 Step 5: Get the Estimated Value
Based on your features selected, you can see the approximate cost of your app. For more details, you can also fill the form and get started with your app idea in no time.