How Much Does It Cost to Build an Education App for Kids Like – Kiddopia App?
In this age of technology, people are more attracted to smartphones and other portable devices to make their work easier and enhance their productivity.
With the rapid adaptation of technology, education sectors have been greatly influenced and are gaining huge potential.
Today, eLearning is the need of every person. eLearning is prominently making its way for the person of every age.
eLearning education app for kids is making a segment for parents and teachers to make their kids learn through smartphones and portable devices.
Educational apps with amazing ideas and incessant possibilities are offering inventive ways to provide education for kids.
Here we will discuss how you can develop your educational app for kids with the help of a top educational mobile app development services company.
Kiddopia – An Edutainment App for The Kids
Kiddopia is an award-winning learning app for preschoolers. It offers more than 1000 activities, games, and learning modules that support early education for kids.
It helps in building a solid foundation of math, science, and problem-solving for your child. Kiddopia early curriculum education for kids includes ABCs, shapes, colors, patterns, spelling, addition, number values, and alphabet track.
Kiddopia is the best educational app for kids that supports kids' creativity with different games like coloring and drawing for babies and cooking & design pasta.
If you are looking to build an education app like- Kiddopia then hire the best eLearning app development services company to grab the details on the cost and efforts that go into making an educational app for kids.
Read More: Tips to Consider for Building a Quality eLearning App
Why Build an Education App for Kids?
Kids love smartphones and portable devices more than soft toys and racing cars. They love to spend quality time looking at the screen.
Whether it is games like- Pokémon chase or game-based learning courses, kids are becoming more attractive, engaging, interactive, and fun than ever before.
Building an education app for children with the help of an eLearning app development services company will never disappoint you.
There are a wide variety of educational apps available in the market and this abundance of apps claiming education for children causes it difficult for parents for choosing the best app.
This is due to the lack of privacy and security reason of the app for children while browsing different mobile apps, games, and websites on phones and tablets.
Many parents often try to keep phones and tablets away from children, but educational apps have enabled children to spend quality time in the digital world.
We see a lot of opportunities in developing educational apps for kids into the mainstream of learning utilities and making it one of the most sought-after app segments.
Market Growth Opportunities of Educational App for Kids
According to Statista: –
In 2019, the global eLearning market was 200 billion U.S. dollars, and it is expected that it will reach almost 400 billion U.S. dollars by 2026.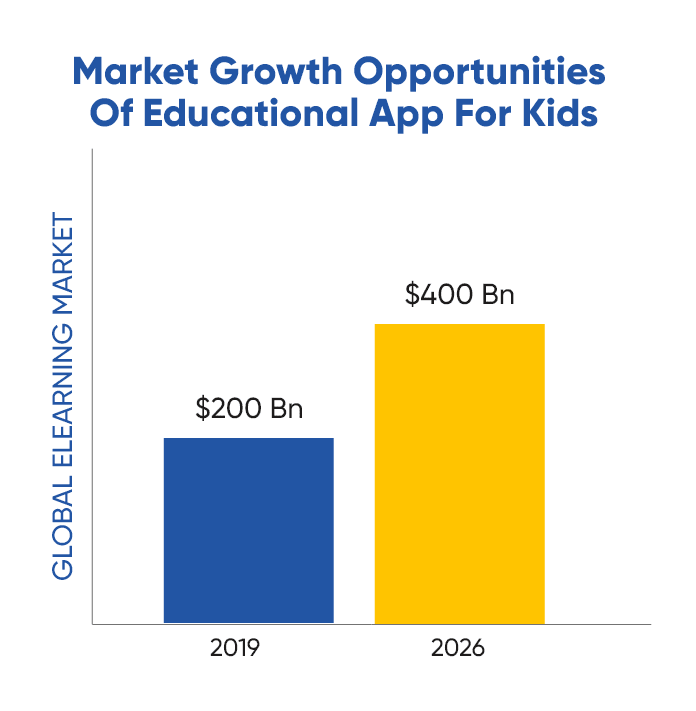 71% of children in the U.S. use smartphones for accessing eLearning apps on their devices while only 40% of the parents limit their screen timing.
Children's education app in the USA like – ABCmouse has approximately 2.77 million downloads while Kiddopia ranked second with over 1.83 million downloads across iOS and Android devices as of Oct. 2022.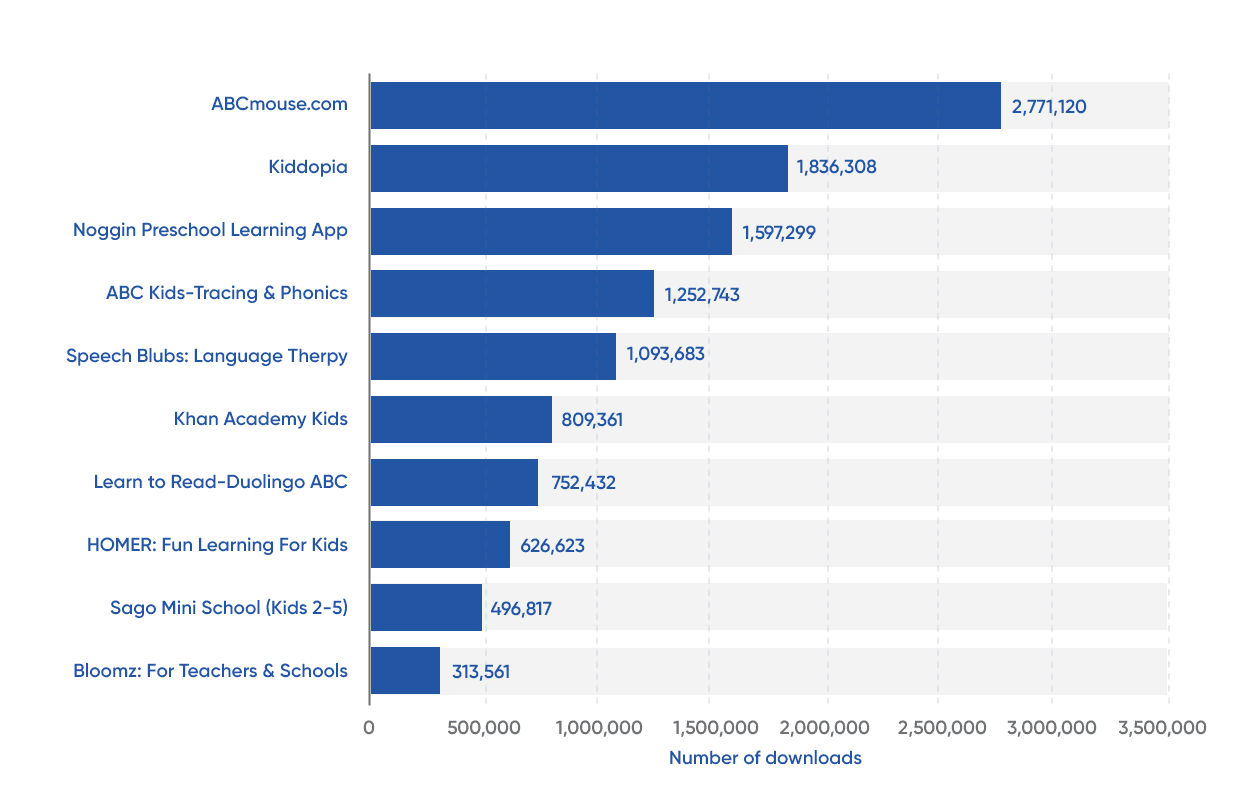 Features to Integrate into Your Education App
Here is the list of features that you can integrate into your education app for kids. This will help you in engaging the children for a longer time.
Integrating these features by hiring educational app developers can help you in developing a great user interface for the kids.
Bright And Lively UI
Slight and unobtrusive animation applied to transitions and micro-interactions makes the online education app design more interactive and compelling for the children.
Simple, Smooth, And Intriguing UX
The UX design of your educational app should be simple and smooth to keep the UI clean and friendly. The process begins with understanding the objectives of keeping your interface simple and smooth and serving your target audience.
No Distraction Elements
Your education app for kids should not contain any distracting elements like- ads, pop-ups, or social media links. This will help you to engage the kids as well as keep them away from distractions.
Child-Lock Facility
Child-lock features on your app enhance the viewing time of your educational app. Parents can easily use the child-lock feature to restrict other apps and games on the device by using parental controls.
Read More: How Educational Mobile App Development Future-Proof Your Education System
Easy Navigation and Transitions
Navigation and transitions are the two aspects that guide users to access the screens in your app. It indicates how elements are related to one another and helps them to orient themselves by expressing your app's hierarchy.
Speech and Music
Speech and music make your education app more interactive for the kids. It enables them to speak and listen to their favorite rhymes and poems. Children can provide instructions and can play music for more fun.
How Much to Create an App Like – Kiddopia App?
The cost of educational application development for kids from the scratch by considering the approach of conceptualization, design, development, and quality will depend on your requirement and the features that you want to integrate into your educational app.
However, it is impossible to determine the overall educational mobile app development cost, but you can easily determine the estimated cost from our project cost estimation calculator.
If you are looking to build an educational app with more modules with some extended functionality, then the cost of the building may shoot up to $20000 to $30000.
However, this cost may increase if you include cloud services, customized functionalities, high-end design, animations, and graphics. The more complex your app then the more will be the overall cost of the app.
Conclusion
Today, parents as well as children are switching to online platforms and eLearning or online education apps for the education of their children.
We are seeing a huge increase in the popularity of educational apps like – ABCmouse and Kiddopia. Building an educational app from the top eLearning app development services company will help you in developing the best business-oriented online education app.
We at Clavax are the top educational mobile app development services company that help you in developing the best business solutions.
Hire educational app developers like – Clavax to build the best education app for kids. Our team of expert developers and professionals helps you in building the best education app.