How Much Does It Cost to Create Dog Daycare and Training Apps Like – Dogo, Woofz, And Puppr?
Dogs are considered human's best friends. But it takes a lot of effort and training to make them best friends. Today's mobile apps are humans' best friends for learning, eating, shopping. we spend our quality time with the apps.
Today's people are more likely to become pet parents, but they don't know how to train their furry friend to "sit," "stay," or "play." Top hybrid mobile app development services company has made it every possible way to ease out their struggle to train their dogs.
Creating a dog training app like – Dogo, Woofz, And Puppr helps you in monetizing and providing training to pet owners on how to treat their pets.
Let's see why creating a dog training app can be the best option to generate revenue.
Market Growth Rate and Response of Dog App
Dog daycare and training applications fall into the pet-daycare category.
Following are some stats and projections for the pet daycare industry by research and markets and Statista that will show you the market growth rate of dog daycare and training apps.
According to research and markets, it is estimated that the global pet market is forecasted to grow at a CAGR of 7.4%. In 2021 the global pet market size was USD 223.54 Billion and in 2026 it is expected to grow by USD 332.9 Billion.
In 2021, Americans owned 69.7 million pets and approximately 44 percent of dog owners brought pet products online in the preceding 12 months.
There has been a 25% increase in pet ownership since 1998 in the USA and expenditure is expected to reach over 109 billion.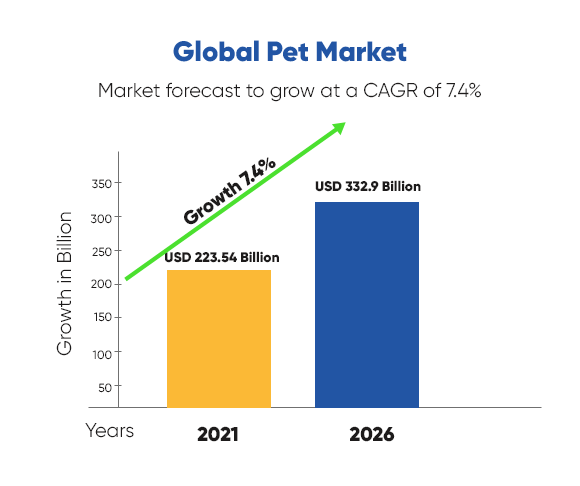 Creating your dog training and daycare app has brought a solution to pet owners for the proper daycare and training of their pets.
Apps like – Dogo, Puppr, and Woofz are gaining popularity for their proper training videos, and they are leveraging these apps for the initial friendship to expert teaching of their pets.
Read More: 5 Best Practices To Follow Before Developing Your Business Mobile App
Ideal Business Model for Dog Daycare and Training Application
The business model for dog training mobile apps like Puppr, Dogo, and Woofz works majorly consists of the following two layers:
Sign-up platform, to allow customers to create free accounts and view free pet training lessons.
Subscription model for premium content from the customers.
Charges for premium pet training lessons and generate revenue from Ads.
Training Platform Development Services
Key Features of Dog Training App Development
A dog training mobile app consists of two primary screens, the home screen or front-end part for the pet owners and the backend for the admin to control the profile, payment, and analyze the overall performance of the app.
The dog daycare and training mobile app development feature focus on the customer's screen to provide better engagement.
This will enhance the training of the dogs and the below-mentioned feature will work best for your app.


How Much Does It Cost to Create Dog Daycare and Training App?
Top hybrid mobile app development services company guides you with the product, business model, and market value for your mobility solution.
An ideal dog training solution is ideally found on both the iOS platform and Android Platforms. There are many parameters that you can't decide whether it is going to work or not.
Clavax with decades of experience in mobile app development helps you in turning your business plans into success.
We know that businesses and entrepreneurs are curious to know "How much does it cost to make an app" but it is impossible for top hybrid mobile app development services companies to determine the cost of app development.
The cost of creating an app depends on the business functionality. However, we can determine the estimated cost and how much time it will take to complete it based on your business plans. These include –
App design and development
User registration: – login, signup, and social integration
App Features
Video Conferencing
Library Management
Security and Encryption of the app
Integrating payment and other gateways
If you want to receive a more precise estimation, use our project cost calculator to estimate the cost of creating your app.
Read More: Top Reasons To Convert Your Custom Website Over Mobile Apps
Monetization Strategy for Dog Daycare and Training App
Today's app developer creates the app with the idea to make revenue through it and gives a clear revenue model so that it will be helpful for businesses and entrepreneurs.
Let's see some of the monetization strategies that you can use in creating your app with the best iOS iPhone mobile app development services company to generate more revenue.
Subscription
Subscription models offer you an easy and profitable monetization strategy that can easily generate revenue.
Offer your customers live sessions, advanced training videos, and many more subscription models for your customers.
eCommerce Integration
Apart from the training and daycare session for the dogs, integrating eCommerce platforms within your app helps you in monetizing and generating a lot of revenue.
You can generate more profit by selling pet supplies, dog clothing, food, collar, harness, biscuits, and more.
Get eCommerce Development Solutions
Merchandise
Build your brand and sell branded merchandise to generate revenue. However, building your brand in pet supplies, clothing, toys, and others will take time but when it works, you will easily generate revenue.
Commissions
Create a platform and invite all the sellers to sell their products and services related to dog daycare and training.
You can charge a percentage of commission from the pet sellers and the other pet daycare service providers.
Advertisements
Placing an advertisement on the platform is the most used monetization strategy to generate revenue.
You can place video ads when non-subscription users use your platform to access training sessions. Thus, you can generate revenue from the advertisement.
Top hybrid mobile app development services company helps you in monetizing your app by integrating a combination of two business models as that might better serve your business.
However, this affects the app development cost as adding more than one revenue model into the app adds to the app's complexity as well.
Create Your Dog Daycare and Training App with Clavax
Dogs are very sensible; they can express themselves more with their tail. Therefore, providing a better environment, friendly training, and how you treat them matters a lot.
Pet owners always look for better training for their dogs, basic guidance, and how to be more friendly with them.
If you are looking to monetize these pet owners, then nothing can stop you from building your dog daycare and training app.
Clavax – the best iOS iPhone mobile app development services company can help you in creating the best dog daycare and training apps like – Dogo, Woofz, and Puppr.
Pet training and daycare apps along with marketplace apps are very much in trend. Create your go-to online destination app today and start your business.