How To Create Popular USA eCommerce App Like – Walmart, Etsy, Target, Temu, And Shop?
Smartphones have predominantly become essential to make our lives easier. With the increase in the popularity of smartphones, mobile apps have gained immense popularity.
Mobile apps are considered the backbone of smartphones that enhance the usability and accessibility of smartphones. Smartphones and mobile apps have influenced businesses and the retail industry.
Various ECommerce mobile app development service companies in the USA are creating ECommerce apps to get the befitting response with growing profits and reach of their products.
We all are using ECommerce app like- Temu, Walmart, Etsy, Shop, etc. to buy products and services without getting confused about the ease of sitting at home.
What Are The Popular eCommerce Apps in The USA?
Temu
Temu is an online marketplace offering quality merchandise from the top global suppliers and brands to consumers at wholesale prices.
Temu is a part of PDD Holdings which also operates one of the biggest social commerce platforms.
Temu offers quality products at affordable prices and delivers them to your doorstep anytime, anyplace, and in any quantity.
They work closely with its global network of suppliers and logistics partners to create and curate quality products for consumers.
Walmart
Founded in 1962 by Sam Walton, Walmart is the largest American multinational retail corporation that operates a chain of hypermarkets, discount department stores, and grocery stores in the United States.
With over 10,000+ stores at the global level, Walmart is targeting customers with their ECommerce app.
They are providing door-to-door services of their wide range of products and services to the customers.
Etsy
Etsy is a global online marketplace, where people come together to make, sell, buy and collect unique items under the category like- jewellery, clothing, home & living, wall art, and many more.
It builds your community with the customers and delivers positive change for small businesses and people.
Etsy has no warehouse, and they make the whole process easy and help you connect directly with manufacturers.
Shop
Shop is a popular eCommerce app in the USA. It has operations in other countries like- Australia, Canada, Malaysia, the United Kingdom, etc.
With this wide presence, it offers the product in almost every category for the customers. It is an award-winning global e-commerce and digital marketing company that specializes in one-to-one marketing.
This way it collaborates with businesses and startups and provides a better shopping experience for the customers.
Read More: Top eCommerce Industry Challenges & Ways to Overcome Them
Why Does Your Business Need An eCommerce App?
Today, ECommerce apps have gained so much popularity and apps like- Temu, Walmart, Etsy, and Shop are gaining much popularity among the people.
These apps are easily accessible, and millions of customers are purchasing products and services in their comfort without getting tired of roaming and spending time in the stores.
Mobile apps have reduced the gap between physical and digital shopping. The trends have changed, and now businesses are witnessing a significant move of shoppers from retail stores to digital stores.
eCommerce apps are targeting more customers and taking your business to a global level. Mobile eCommerce application development in New York helps you in building apps that help people from around the world to access your app by installing it on their smartphone and purchasing your product and services.
Apart from filling the gap between digital and physical businesses, mobile apps are capable of building better relationships with end customers.
Thus, it builds your brand reputation among the audiences and delivers a better shopping experience to the customers.
Facts And Statics of Global Retail ECommerce Sales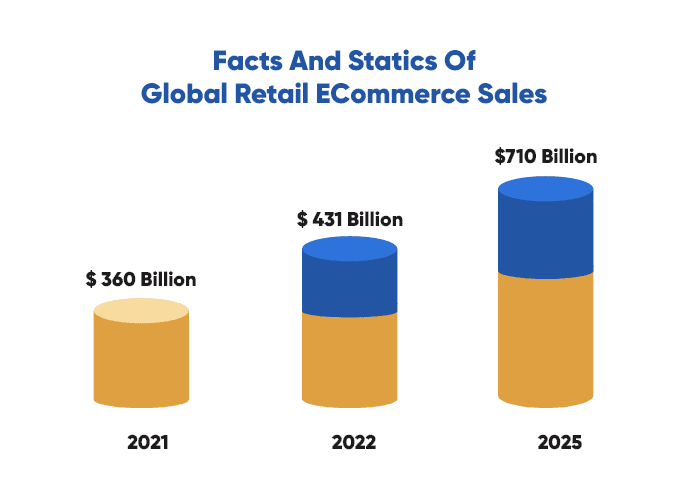 According to Statista,
m-commerce sales in the United States exceeded 360 billion U.S. dollars in 2021 and it is expected to reach 710 billion U.S. dollars by 2025.
In 2022, United States mobile retail sales are estimated at over 431 billion U.S. dollars.
In 2021, Walmart has 120 million users while Amazon has 98.07 million users followed by target apps with 17.12 million.
Benefits Of Creating an ECommerce App
Reach To The Global Audience
An eCommerce app enhances your business presence and helps you in targeting your customers. It takes your business to the global level and allows you to sell your product to your overseas customers.
Thus, mobile eCommerce application development in New York offers limitless boundaries to reach customers.
Customers can access your app from anywhere and can purchase your product and services.
Target Your End-User Customers
Building your ECommerce app with the top mobile app development company in California is the key to interacting with your end-user customers.
When end-users interact directly with your business then it builds a sense of satisfaction and influences them while choosing your product and services.
When they share their experience and trust with their friends, colleagues, and family then it builds your market base.
Increase The Loyalty of Your Customers
When customers interact and are satisfied with your product and services then it builds a level of trust in themselves. They try to use your products and services again and again.
You can also enhance their experience with the introduction of a loyalty program in your app. Mobile eCommerce application development in New York will help you in increasing the loyalty of the target audience.
Build Your Brand Reputation
The competition of being the market leader and establishing your business as a brand is very tough. An ECommerce app has the potential to make your business stand out from the competition.
Thus, it has become easy to retain visibility in the market through apps. When the reach of your brand or ECommerce app is higher then the visibility of your brand increases.
The top mobile app development company in California helps you in creating an eCommerce app that builds your brand reputation.
Easily Analyze The Demand of Customers
The top mobile app development company in California helps you in creating an eCommerce app that has reporting and analytics that helps businesses to determine their customers' needs and demands.
It provides useful insight to all small, medium, and high-scale businesses to deliver better customer satisfaction. Thus, studying the buying pattern of a buyer grows your business.
Read More: Top 5 Challenges and Market Opportunities for The Retail Industry
How Much Does It Cost to Build an App Like- Walmart, Etsy, Or Target App?
Now, I know that you are keenly interested in building an eCommerce app for your business. In 2022 and in the upcoming year no business can succussed without an eCommerce app.
Are you really wondering about how much it will cost to create an eCommerce app like- Walmart, Etsy, Target, Temu, And Shop?
To be very clear, it is impossible to provide you with an accurate price for creating your ECommerce app.
There are various factors like- features & functionality, platforms for launch, UI/UX design of the app, etc. are required to be considered before wondering about the total cost of developing an ECommerce app.
However, you can use our project estimation calculator to determine the expected cost of the ECommerce app with new & innovative features.
The cost for developing the app from Top mobile app development company in California would be around $30,000 — $70,000.
It can be increased or decreased when you want the advanced version of the eCommerce app with new & innovative features.
How Clavax Can Help You in Building eCommerce App?
At Clavax, we shape your ideas into products. We will help you in creating an eCommerce app that offers a seamless shopping experience to the customers.
We enable businesses to deliver functions and features that help the customers in building trust and loyalty to your business.
Our team of expert professionals with decades of experience is the next thing in the IT industry to leverage for developing your business in the eCommerce industry.